Hopefully you've read my article on planning a South African safari, so now I want to tell you about the best South African safari lodge, Arathusa Safari Lodge. My brother and SIL had stayed at the lodge a few years ago so why reinvent perfection? I'm a bit OCD when it comes to trip planning, and especially about where I'll be staying. I'm a homebody because I love my creature comforts (and my creatures) so I like when my accommodations feel homey. And Arathusa certainly delivered on that from the private villas to the amazing food to the friendly staff.
We had spent a few days in Capetown (article coming soon) so we flew into Hoedspruit airport via a commercial plane. There is an airstrip adjacent to Arathusa but we opted for a private van transfer just to see some of the surrounding villages. (This proved to be a bad idea as the roads are not paved and in serious disrepair due to government corruption and erosion.)
Arathusa has 12 suites, all separate villas spread across the resort so they are very quiet and private – except for the occasional hyena or elephant who wander onto the property. Seriously (keep reading).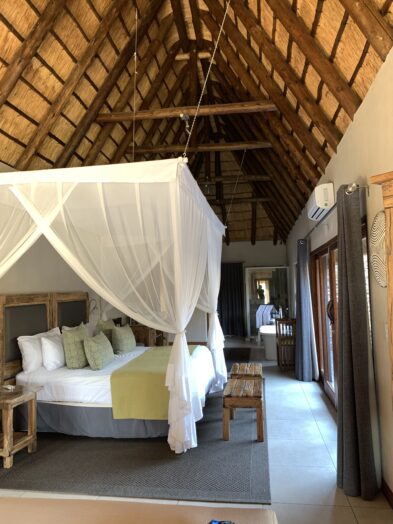 The rooms truly felt luxurious. They are rather spacious with a sitting area, a king bed, shower and garden tub (a must when I travel!). There's also a small outdoor patio with a shower (I highly recommend showering outdoors at night under the stars).
Our villa looked out over the watering hole and there was never a dull moment. The day we walked into our villa for the first time, 20-30 elephants sidled up to the watering hole. It was such an amazing welcome! This was the point I was convinced we had chosen the best South African safari lodge. There are four villas a bit off the main resort for those who want to stay in the bush. These villas have private pools but you do need an escort anytime you come and go because you are truly in wild animal territory.
The common areas of the resort are comfortable, spacious, and great gathering spots for chatting with other guests. There's a small swimming pool with lounge chairs (great for napping after that morning drive) that looks out over the watering hole – nothing like taking a dip in the water while watching the hippos in their own pool.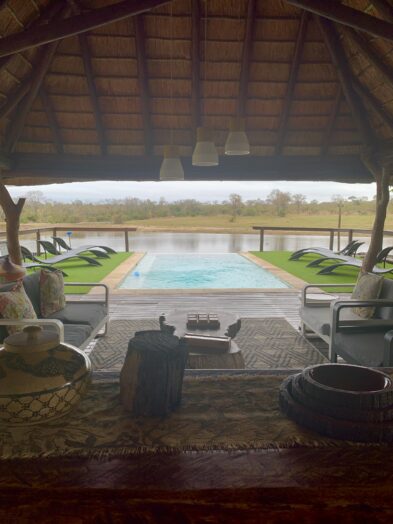 There's a bar, two separate sitting areas, and a wine room, with some really wonderful South African wines (I feel a new post coming on…). There is no wifi in the guest rooms so if you want to connect, you'll have to sit in the common area. Because the resort is so small, there's never a crowd. But it is great to sit around the bar in the evening and chat with other guests about what they saw on their drives.
The lodge is all-inclusive and includes meals and drinks. Meals are communal – you'll sit with the others in your drive group, up to 9 people, and often your guide will join you to answer any questions or talk more about the animals. And the monkeys will often appear, uninvited, to sneak a piece of bread before the staff runs them off.
Most meals offer a choice of three options, including one vegetarian. I found the staff to be quite flexible in adding or removing ingredients upon request. A full breakfast is served when you return from morning drive. Lunch was served at 2 before the evening drive, and dinner was served about 7pm. One night, we had dinner outside the perimeter of the lodge and as we headed out the exit, we were rushed back in by the staff who told us a large bull elephant was hanging out having his own dessert right outside on the sidewalk so we had to wait until he meandered away. Shortly after this, we locked ourselves out of our room and as we were walking to the front desk, encountered a hyena approaching the bar, perhaps for a nightcap.
By the end of the week, the staff will feel like family to you. They genuinely love their jobs and are there for the sole purpose of making guests happy. And they're always up for chatting about their lives, the animals, and South Africa offering a real locals' perspective. There is a small spa with a range of treatments available. Take my word for it, a late morning massage is the perfect way to relax after a morning drive.
Our South African safari experience
Of course the lodge was amazing, but our daily game drives were really the highlight.
The first afternoon we arrived, we were rushed onto our safari vehicles for our first drive. Personally, I was hoping to unwind and unpack after a long travel day but….FOMO. And boy was I glad I went!
Within 10 minutes of heading out into the bush, Roy, our guide, said we were in search of a rhino family. Ishmael, our spotter, was off on foot tracking the rhinos. Soon, we came upon a mother and baby rhino feeding on brush. They were terrifying and breathtaking. I would soon learn that this combination of emotions defines every drive.
Shortly after the rhinos, we came upon three lions, including a large male. We parked about 20 feet away and sat for about 30 minutes watching them relax before they headed off on their nightly hunt. At dusk, we tracked a leopard off on his own evening excursion in search of food. We followed along behind him as our headlights illuminated his path.
So on day one, we saw three of the big five! The big five are the most dangerous, and often most elusive animals – the lion, leopard, rhino, elephant and African buffalo. The next day, that 5:30am wake-up call came and we eagerly hopped out of bed.  Because….FOMO.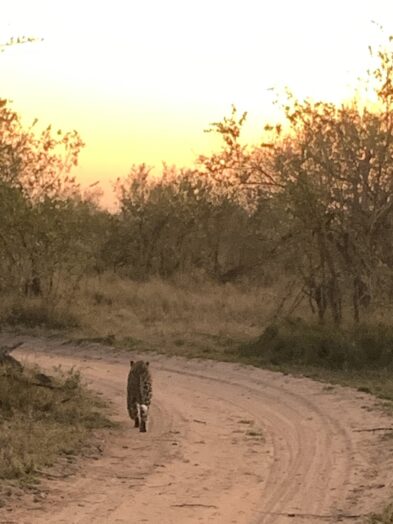 Tracking. I realized I had never really thought about that word. But a safari is literally spotting and following animal tracks in hopes of finding them. Guides and spotters are highly educated on identifying tracks – it's a real science.
We saw giraffes against the morning sunrise. Huge herds of zebras grazing in open fields, and impala by the dozens. I know once-in-a-lifetime-experience is cliché, but I know I'll never have another experience like this again. Until my next safari LOL – and yes, I do plan to go again someday.
I know everyone is curious about rates and you can find budget lodges and luxury lodges. According to Arathusa's current website, rates for double occupancy range from $465-$500 per night per person. But keep in mind it's all inclusive. The only out of pocket you'll experience are for tips and premium wines.
If you're looking for the best South African safari lodge and the best safari experience, I highly recommend Arathusa. Follow them on Facebook or Instagram and trust me, your wanderlust will kick in!