I'm a bit of an expert on this topic. St. Augustine is where I live. My backyard. My home base. My playground. And I hang out with my friends and other couples here every week. The city is full of history, amazing food, great craft cocktails, quaint hotels and an overall charm that makes it the perfect getaway for a group of friends traveling together. Here are the fun things to do in St Augustine for couples and precisely what me and my friends do here on the regular. One caveat: there is honestly SO much to do in St. Augustine and so many great restaurants and watering holes that I can't possibly touch on each of them, but I'll hit a few of my favorites. And I suggest you do the research and make your own list – and hit me up in the comments if you have specific questions. (Hoping the other locals don't pile on me for missing their favorite spots!)
Just a little personal story here: I've lived in this part of Florida for 20 years, but I've been coming to St. Augustine my entire life. My great aunt lived here and we'd often come here on family vacations because they lived near the beach. My parents came to St. Augustine on their honeymoon in 1957 and my father took a picture of my mom at the Castillo. My brother brought her back here 60 years later to recreate that same photo. It might be my favorite photo of all time!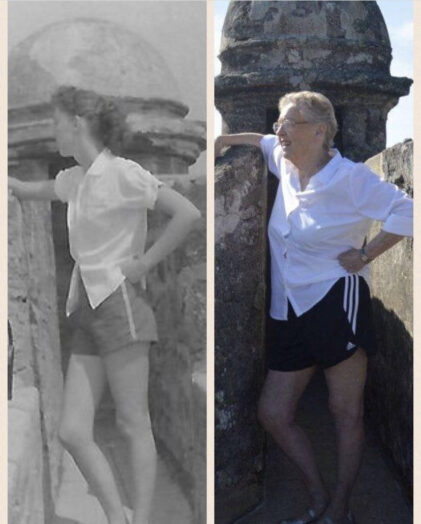 What makes St. Augustine special?
St. Augustine is located just 30 minutes south of Jacksonville on North Florida's coast. It's often referred to as the Oldest City or the First Coast. That's because Ponce de Leon's quest for the Fountain of Youth led him to Florida in 1513. Decades later in 1565, Spanish explorer Pedro Menéndez de Avilés founded what we know today as St. Augustine. The Spanish influence is still prevalent throughout the city in the architecture, the food, and cultural attractions. The many historic structures – Fort Matanzas, Castillo de San Marcos, the Lightner Museum and even the Fountain of Youth – make you feel as though you're in another era, and quite possibly in another country. There are also dozens of great restaurants and wine bars. Which means there are tons of fun things to do in St Augustine for couples.
Much of the historic district is walkable although the old trolleys and horse-drawn carriages are a popular way to see the city for tourists. St. George's Street is the heart of the city's historic district lined with cobblestone streets, quaint outdoor cafes, and offbeat artisan shops. There are many other streets perfect for strolling, window shopping , or grabbing a bite to eat. Honestly, I live here and I never get tired of walking these streets.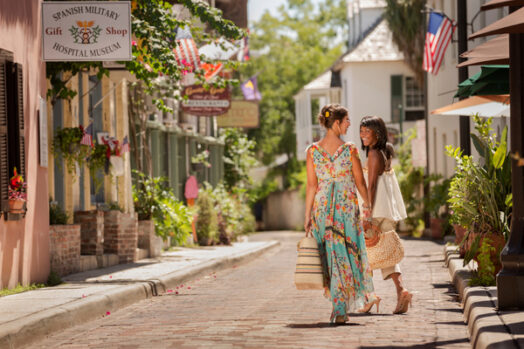 Fun things to do in St. Augustine for couples
Let's start with the historic sites. I'm an independent traveler and not a big fan of group tours, but sometimes, I do believe you can learn a lot more about a place when you have a tour guide. And since there is so much history here, I do suggest you consider booking a formal historic tour so you can get the full gist of the city and its history. Ancient City Tours is one of the most popular and you'll be transported around by trolley – and they also host these really fun ghost tours, which is one of the fun things to do in St Augustine for couples.
Castillo de San Marcos is one of the iconic historic structures of North Florida, constructed by the Spanish between 1672 and 1695. You can listen to park ranger talks, enjoy the green park surrounding the fort, and watch reenactments and weapons demonstrations in period costume. Late at night, the spotlights form really cool shadows on the sides of the fort – my girlfriends and I have been known to do a little late night shadow dancing in the lights.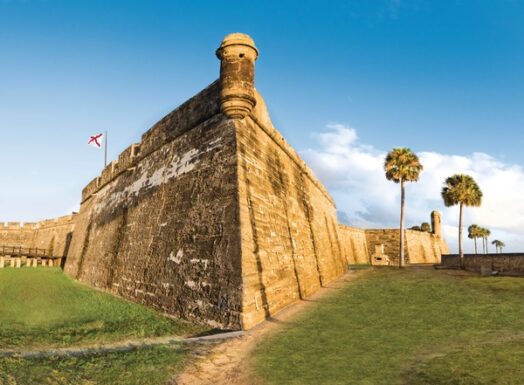 Other popular historic sites include the St. Augustine Pirate & Treasure Museum, which offers the world's largest collection of authentic pirate artifacts and interactive exhibits. Built in 1887, the Lightner Museum features costumes, furnishings and other artifacts from 19th century daily life. The Fountain of Youth Archaeological Park is the original site of the nation's oldest city. Located on 15 beautiful waterfront acres, you can see the real Spanish watchtower, the Menendez 1565 settlement field, and a 600-foot founders riverwalk. The oldest house and oldest wooden schoolhouse are also fun to see. I've heard the Old Jail is cool but I have never been. Again, I recommend going with a guide so you can see it all.
Aside from its vibrant historic district, St. Augustine Beach is a great place to spend the day. It truly is one of my favorite beaches in Florida with its powdery white sand and the seagrass along the dunes. I've often said that North Florida has the state's most beautiful beaches. If you spend the day here, you'll understand. You'll find beach stands where you can rent chairs, paddle boards, kayaks, and all kinds of beachy fun.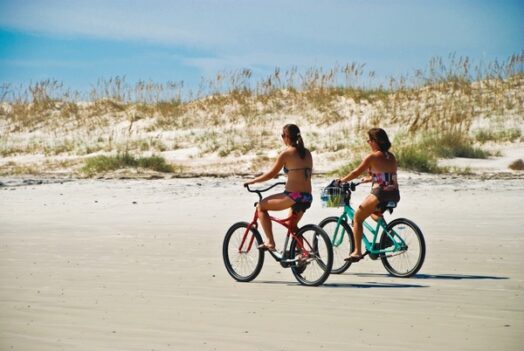 I would be remiss if I didn't mention the biggest event of the year, Nights of Lights, when three million lights illuminate the entire historic district from mid November through the end of January. It's been listed as one the top 10 holiday light displays in the world by National Geographic. This might be my favorite thing to do in the city and it's certainly one of the most fun things to do in St Augustine for couples. You can walk or ride the trolley to see the lights and it's a great way to get into the holiday spirit. My advice: January is the best time to see the lights as it can get very crowded during the holiday season.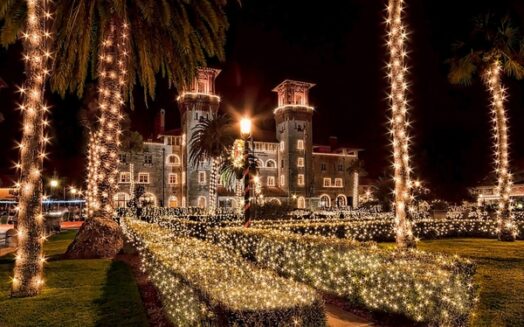 Where to stay in St. Augustine
First of all, St. Augustine is known for its charming Bed and Breakfasts. You really can't go wrong at any of them, and most are located in the heart of the historic district so they're easily walkable. One of my favorite spots is The Collector Inn, a really unique collection of nine historic homes that have been turned into individual B&Bs. My favorite spot to enjoy a craft cocktail or late night libation while sitting by a fire pit is the Inn's bar, The Well. Definitely check it out on your visit.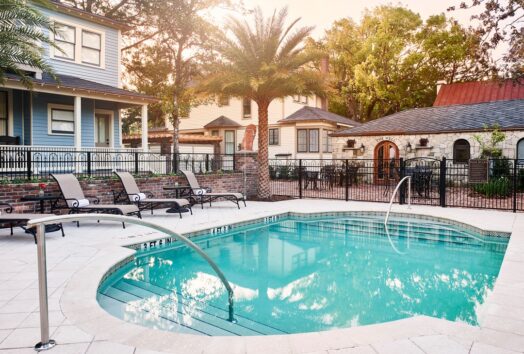 The luxury Casa Monica Resort and Spa is also an excellent choice if you're looking for a full service hotel. It's home to one of the city's most popular restaurants, Costa Brava, and my favorite spa, and also has a great rooftop pool. There are many more hotels and motels spread throughout the city and across Anastasia Island to fit every budget and every desire.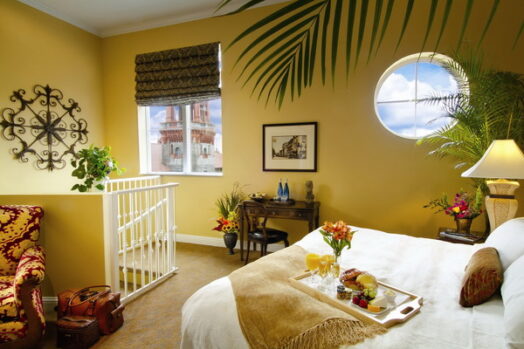 The best restaurants in St Augustine
Where do I start? Again, I could dine out at dozens of places in St. Augustine and have a fabulous meal each time, but I can't possibly name them all here. So here are a few of my favorite restaurants in St. Augustine.
For brunch, Ancient City Brunch Bar is known for its bruncharcuterie boards. Yep, you read that right! Instead of meats and cheeses, you'll get comforting breakfast foods like French toast sticks and frittatas served charcuterie style.
Columbia Restaurant is one of the city's oldest and most popular restaurants including recognition as "One of America's Most Historic Restaurants by USA Today." The Spanish/Cuban menu features Paella a la Valenciana, Red Snapper Alicante, Pompano en Papillot, Roast Pork A la Cubana and other international specialties. But trust me, just order the 1905 salad – I crave it on the regular.
The Floridian is an old-school restaurant featuring "Innovative Southern Fare" like grit cakes, fried green tomatoes, local shrimp and St. Augustine's treasured datil peppers. If you're looking for the local favorite, Mayport shrimp, I wrote about a few of the top spots in this article for Southern Living.
One of my regular haunts is The Ice Plant, a 1927 building that was once, well, an old ice plant, that serves tapas and cocktails (also a great brunch spot). Be sure to stop in downstairs at the St. Augustine Distillery for a whisky tasting.
Ugh, as I'm writing this I keep thinking of too many others. Check out Gypsy Cab, Llama, Odd Birds, St. Augustine Fish Camp, and Uptown Swinery. For late night cocktails, visit Tini Martini Bar, Harry's, Meehan's Irish Pub, or the rooftop at Casa Reina where you'll have some spectacular views.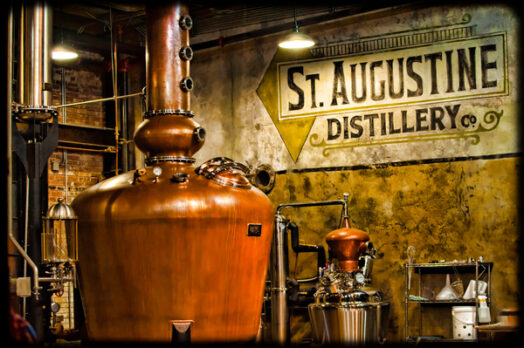 No matter what you choose to do, you'll find plenty of fun things to do in St. Augustine for couples and groups of friends. Just give yourself plenty of time to eat and drink your way across the city!