True confession: I'm a diva when it comes to travel. I like full-service hotels, I like to have a very detailed itinerary (that's why I created this site – to share my OCD planning tips), and when I fly overseas, overnight, I must have a lay flat seat. Who the heck sleeps sitting up? But I'm also not a millionaire or lottery winner. So I guess that makes me a champagne flyer on a water budget. The question I get asked the most is "How to get first class plane tickets for cheap" and "Are lay flat seats worth the price?" The answer is yes so I'll share some secrets on how to fly first class for cheap.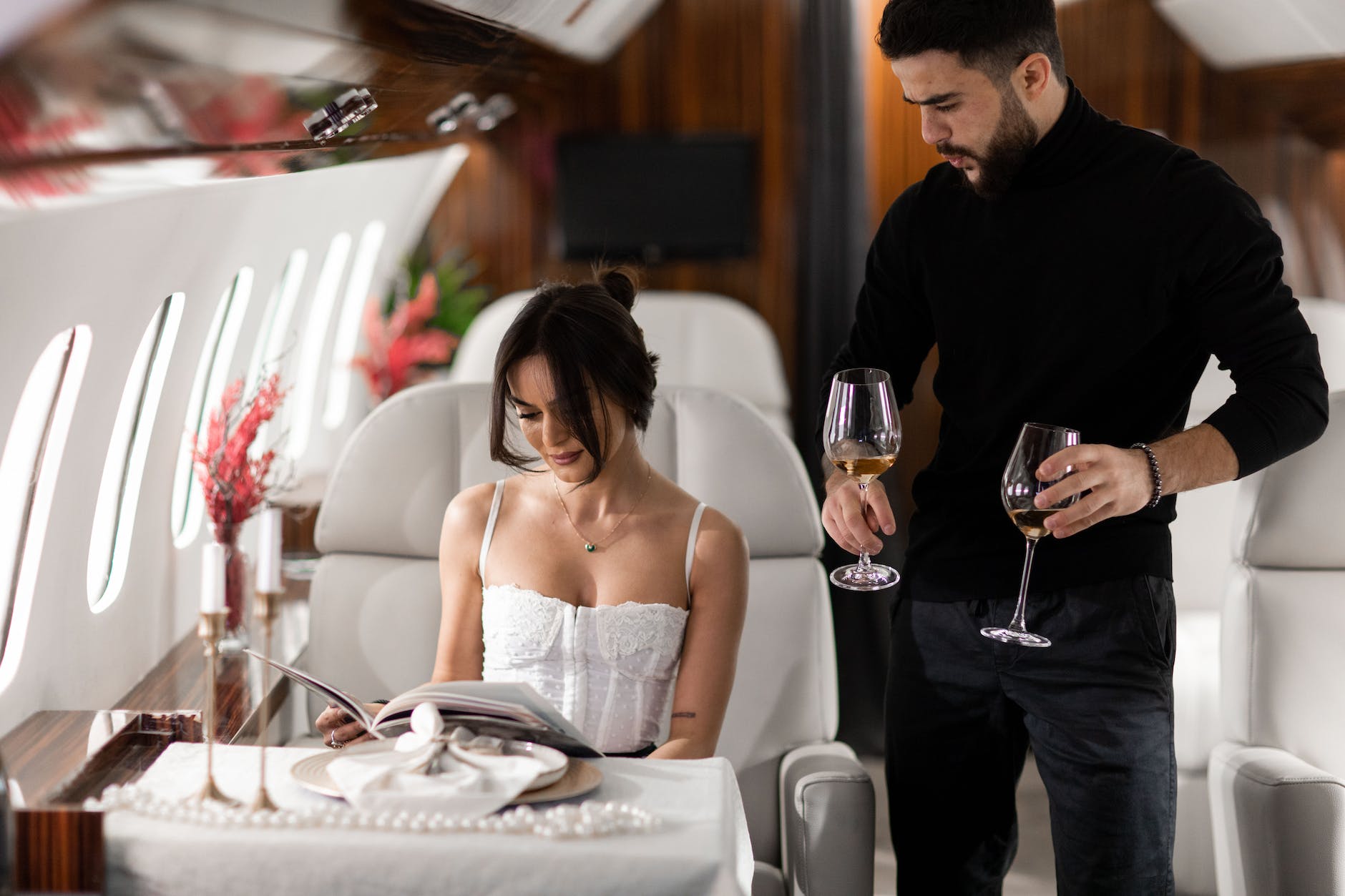 Yes, flying business class is worth the extra money! And I'm the queen of scoring affordable business class seats. It just takes time, patience, and a little flexibility. Well, and money, of course. But you can find affordable (I know that's relative) tickets if you're willing to put in the work. The biggest question I get is about "How to get cheap business class tickets for international flights." Caveat: Business class tickets have increased over this past year so there's now a much bigger gap between economy prices and business class tickets. But for me personally, I'm willing to spend the extra money to arrive at a destination well rested so I can make the most of my trip.
Here's how to get first class tickets for cheap
For starters, I typically use multiple platforms to find flights to fly first class for cheap and I've been known to have a dozen tabs open at once. I've also been known to invest days in my search, but it always pays off. I generally like Kayak and Google Flights when searching simply because it's easy to toggle between dates and destinations easily. Do not do these searches on your phone – you'll drive yourself crazy! Google Flights has become my favorite because you can actually see a calendar with the price by the day, so if your days are flexible, you can choose the cheapest flights. 
Fly out of hubs
Next, don't just log on and put in your home airport. I fly out of Jacksonville which is a small airport that has to connect to a hub. I don't care about business class seats to a hub within the U.S. And usually those segments, out of a small airport, are quite expensive in a premium class. You'll want to start your search from a major hub. I live on the East Coast so I often look at Miami, Atlanta, Charlotte and New York. For my last two intercontinental flights, we actually drove to Miami (5 hours) and picked up our flights there. To fly business class from Jacksonville to Rome in business was over $4,000 per person. But I found tickets direct from Miami for less than $1,800 per person (we actually got upgraded to Flagship class coming back, for free, which is like ultra-luxurious 1st class!) A lot of airports have a park, sleep, fly program so you can leave your car there. You can get to the hub anyway you want but I can generally get flights pretty cheap direct to a hub or I use points.
You're going to spend a lot of time, and patience, checking flights from different hubs. Get creative. Use a map. I often use the airlines routing maps on their websites. The fewer segments you have to fly, the better. I sometimes have different browsers open – Google and Safari – so I don't lose flights. Also consider a multi-city search to try connecting through different cities.
I have my preferred airline where all of my points and perks are but they don't always have the cheapest business class seats. The more you pay for a ticket, ie. business class, the more points you get but there are times I have to choose another carrier just for the sake of price.
Use all of the search functions
I've actually been trying to get to the Middle East and the business class fares are just ridiculous. So I've been getting a bit crafty. It's only for the long-haul overnight flights that I care about getting a lie flat seat. If I'm flying within Europe or on say a 6-hour transcontinental flight during the day, I'll (begrudgingly) fly economy class. So for this trip, I'm actually looking at booking a business class ticket from the US to a European city and then flying a smaller budget carrier the rest of the way. Again, you really have to think outside the box if you're trying to figure out how to get business class tickets for cheap.
Update: Here's what I ended up booking for my trip to the Middle East. I noticed in my searches that one of the options was on Turkish Airways connecting through Istanbul. So I played around with the multi-city search and ended up getting a 2-day layover in Istanbul for the same price. I used credit card points (another post on that) and my business class ticket from the U.S. to the UAE ended up costing only $2,000.
And finally, if you find a fare that's reasonable, grab it! I've been known to feel the need to sleep on it and the next day it's gone. Or I'll keep searching looking for a better deal only to be unable to find that original deal. Most airlines have a 24-hour cancellation period so if you do find a better deal, you can cancel. I've been known to run up my credit card with 3 or 4 flights in one day, only to cancel all but the best option.
So again, if you're trying to score some lay flat seats in business class, you'll have to be tenacious and crafty. Have a note pad for comparing fares and travel times, be prepared to have multiple tabs open, and don't give up!