While most visitors to Northern Italy flock to Lake Como in hopes of catching a glimpse of the island's most famous resident, George Clooney, many are missing out on what is truly the region's most impressive lake, Lago Maggiore. Surrounded by mountains and a rigid coastline, Lake Maggiore has a completely different feel from the more popular Lake Como; the road surrounding the lake is at water level in contrast to Lake Como's which takes you high along the mountains' ridge – in essence, you're looking down on one lake and out at another. Lake Maggiore is my favorite day trip from Milan and I found the best Lake Maggiore hotel. When anyone asks me what to do in Lake Como, I say, "Lake Maggiore!"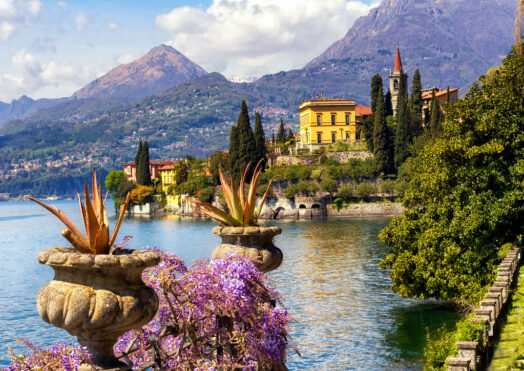 Both lakes are easy to reach from Milan by train, about an hour ride. Lake Maggiore borders Milan on the North and Switzerland on the East; this unique alpine position helps the lake maintain a warm Mediterranean climate where tropical plants bloom year-round including palm trees, magnolias, roses and camellias. And while Lake Maggiore isn't home to famous movie stars, it has had its share of world-famous visitors, namely Hemingway, Napolean, Mussolini, Rothschild and Clark Gable. Hemingway aficionados might recall that Lake Maggiore's Borromean Islands were the setting for A Farewell to Arms.
The most popular resort on the lake is Stresa, a festive town with a winding boardwalk along the lake lined with tropical foliage and blooming perennials. Stresa's northern end boasts several spectacular hotels with spectacular views. In summer months, Piazza Cadorna takes on a life all its own with local bands playing to the restaurant patrons around the Piazza. I enjoy strolling through the winding streets visiting the enotecas to sample wine, cheese and other local favorites.
Stresa is also home to Villa Pallavicino, part nature park part zoological garden, and a desirable destination for both families and botanists alike. The park's natural walking paths are shaded by old oak canopies and lined with the largest hydrangeas one has ever seen. The zoo is home to a bevy of exotic, and not so exotic, animals including peacocks, zebra, kangaroos, llamas and even goats that roam the range of the park.
The three Borromean Islands are named for the Borromeo family, which has owned them since the 12th century. Ferries run from each island every hour so you can easily spend an entire day island-hopping. Isola Bella and Isola Madre both house breathtaking botanical gardens and plenty of small restaurants and unique shops. Yet Isola dei Pescatori (Island of the Fishermen) is my personal favorite. Less than 100 yards wide and only about 1/4 mile long, this island has a character unlike any other with narrow pathways strung with fishing nets and the island's adopted wild cat population which roam the island in search of fishermen's catch.
Stresa has many notable hotels including the Grand Hotel des Iles Borromées. But in my opinion, the best Lake Maggiore hotel is the family-run La Palma, the only hotel with a swimming pool (literally) on the lake.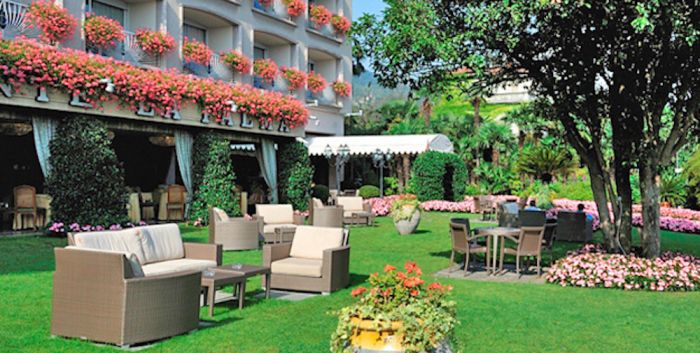 So if you're wondering, "Should I go to Lake Como or Lake Maggiore?", my advice is the latter! Getting to Lake Como and Getting to Lake Maggiore: Both lakes are an easy 1-hour train ride from Milan's Centrale. You don't need to rent a car in Como or Stresa, but if you want drive around the lake region, you will need a car.