Puerto Vallarta is still one of my all-time favorite destinations to visit in Mexico. Unlike the touristy locales of Cancun and Cozumel, Puerto Vallarta feels like real Mexico. Authentic. Unspoiled. Puerto Vallarta is the best destination to visit in Mexico, as it is the oldest town not built as a resort destination. And it's the perfect place to experience a little fun and  adventure, while enjoying great food! There are so many fun things to do in Puerto Vallarta.
I was invited to PV along with a group of travel writers to experience some of the unique things to do in Puerto Vallarta. And my adventure-seeking husband was in tow (the perks of my job). I'm limiting this list to 10, but trust me, there are so many things to do and great places to visit in Puerto Vallarta, you'll find yourself wanting to stay longer. And some of the best restaurants in Puerto Vallarta and easy to find and affordable. 
10 fun things to do in Puerto Vallarta
1. Ziplining – I'm terrified of heights but there was no way I was going to miss ziplining through a tropical forest high above the trees of the Canopy River. There are eight ziplines, including Mexico's longest and fastest zipline at 4,000 feet reaching speeds up to 60 mph. Good thing I did not know these stats before I strapped in for my ride. It was exhilarating. The lines take you down to the valley so to get back up the mountain, your transport is a mule train.
2. Riding ATVs – If you're rather experience the jungle from the ground, taking a guided ATV trip along the dusty roads of the back country is the way to do it. You'll see great natural terrain including the real Montezuma's revenge tree. Our trip ended at a hidden watering hole, complete with a beautiful waterfall, perfect for washing off the dust of the trail ride. my newfound sense of adventure gave me the courage to try a little cliff diving (okay, it was just jumping off a rock into the water).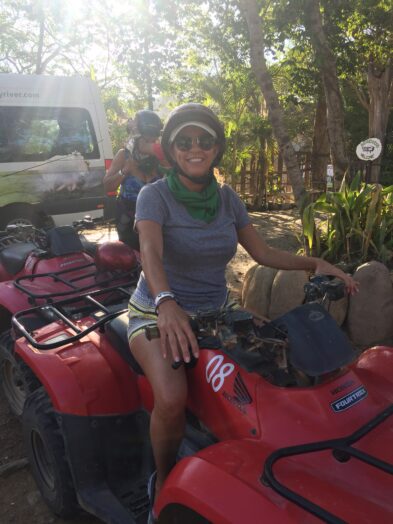 3. Walking food tours – It seems that every other storefront in downtown PV is a taqueria.  And they all smell amazing. At night, taco stands (the original food trucks) open in the streets where locals hang out. But to truly experience this culinary mecca, I recommend The Street – An Evening Taco Adventure Tour that is a walking and eating tour of the street foods of Vallarta. Save your appetite because you'll be trying eight different types of Mexican cuisine including marlin ceviche tacos, tacos al pastor, sopes, and steaming hot churros.
4. Strolling the Malecón – This mile-long esplanade is the best place to pick up a few souvenirs and do some people watching. It's a peaceful stroll along the ocean's edge with hieroglyphs of Jalisco's history etched into the concrete. If you want to get an amazing sunset picture, stroll the Malecón at dusk.
5. Yachting along Banderas Bay – There is nothing quite as luxurious as sitting aboard a 58' foot yacht, with abundant cocktails and a waiter tending to your every need. The scenery is amazing, but so are the margaritas. We sailed along the coastline for miles, watching a pod of dolphins cross the bow. We docked off Los Arcos (The Arches) which on days when the water is clear, is a great snorkeling spot.
6. Vallarta Botanical Garden – This was a sweet surprise on a day trip high up into the mountains. This destination has been recognized as, "One of the Top 10 Gardens in North America Worth Travelling For." The garden has dozens of varieties of indigenous plants and flowers. There's a charming chapel on the site perfect for destination weddings.
7. Drinking raicilla – If you love tequila, then sampling Jalisco's homegrown distilled spirit, is akin to coloring outside the lines. Like tequila and mezcal, raicilla comes from the agave plant, but is smoked underground for days, giving it a very smokey flavor. It adds a very interesting twist to margaritas. Check out this article to learn more: Afar: Is This the New Mezcal?
8. Lounge by the pool – Yes, be sure to save an afternoon to simply lounge by the pool, drink a margarita and take in the beautiful ocean. Check out the "Where to Stay" section below for one of the best infinity pools and the best hotel in Puerto Vallarta.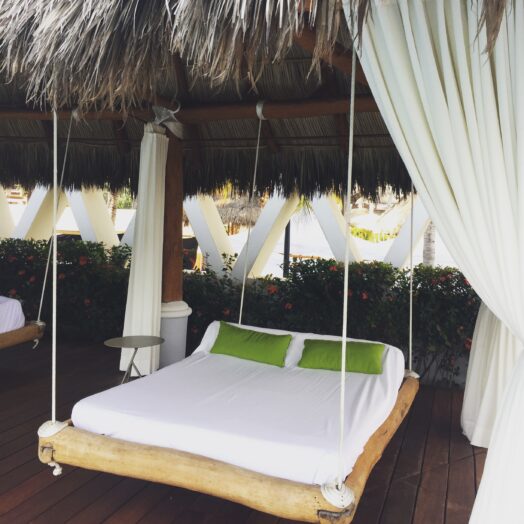 9. Take a cooking class – Gaby's Mexican Restaurant, a PV favorite since 1989, offers a market tour and cooking class where you'll learn to prepare authentic Mexican dishes including ceviche, tortillas, tamales, salsas and PV's national dish. Bring your appetite as the fruits of your labor result in a 6-course Mexican feast. It's one of Puerto Vallarta's best restaurants.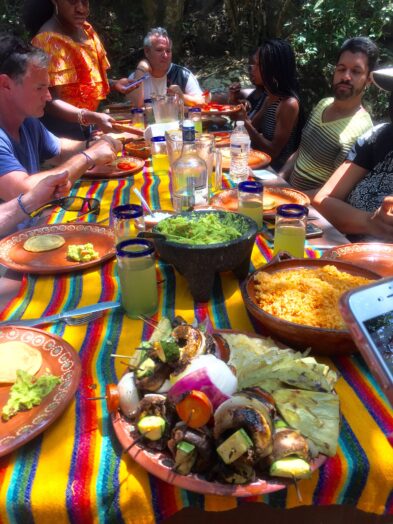 10. Dine on the beach at La Palapa – If dining on the beach and dining under the stars are on your bucket list, you can check both off at La Palapa. Located in a quaint part of town at Playa Los Muertos, your table is oceanside in the sand where you'll dine on tropical Mexican cuisine under lanterns.
Where to stay: Villa Premiere Boutique Hotel is the perfect home base for your trip to PV. It's an adults-only all-inclusive resort situated on a quiet, secluded section of the beach on the edge of downtown Puerto Vallarta, just a short walk to the Malecón. But with the infinity pool and poolside bar, not to mention that amazing view, you won't feel the need to leave the resort. The main pool is lined with comfortable cabanas and the pool concierge will tend to your every need from fresh towels to fresh drinks. There's both fine and casual dining at three restaurants, along with The Mind & Soul Spa.