The ultimate packing guide for Patagonia
There's one thing you should know about me. I don't like cold weather. I mean, I abhor (and that's a strong word) being cold. But when a destination calls that's a bucket list experience, how could I say, "no?" So when the invite to travel to Patagonia came, I began ferociously reading everything I could get my hands on about a packing guide for Patagonia. One thing that was clear in everything I read? Pack for 4 seasons, no matter how many days you'll be there on your trip to Patagonia. The region has a very unique climate and can experience wild temperature swings, strong winds, and simultaneous sun and rain. There are so many Patagonia adventure tours so you'll want to be prepared.
So how's a warm weather take-me-to-the-beach type of girl supposed to pack for this trip? My winter coat is 20 years old and (ahem) way out of style. My ski gear (I haven't skied in 10 years) was purchased long before my menopausal muffin top appeared. But being the OCD planner I am, I did my research, connected with a few of the best outdoor outfitters, and lo and behold, I managed to have the perfect gear for week of travel to Patagonia.
I would be staying at Patagonia Camp, the uber-luxe yurt resort. If you don't know what a yurt is, it's essentially at tent. But think about a tent that's more like a 5-star hotel suite. And the Patagonia adventure tours are so memorable. So here is my packing guide for Patagonia.
What I packed for a trip to Patagonia:
I kept reading about wind pants in my research and I was clueless. So I went straight to the outdoor source, REI, and they graciously offered up these rather comfy REI Co-op Screeline Hybrid pants that are yes, wind resistant, but honestly, just fun pants to wear anytime. The description says they're "crafted for high-performance hikers and climbers." Yeah, that's not me, but truth be told, I wore these pants every day of my trip. They were not only a great fit, but did the job of keeping me warm on even our windiest days. As I was packing for Patagonia, these were the first item in my bag!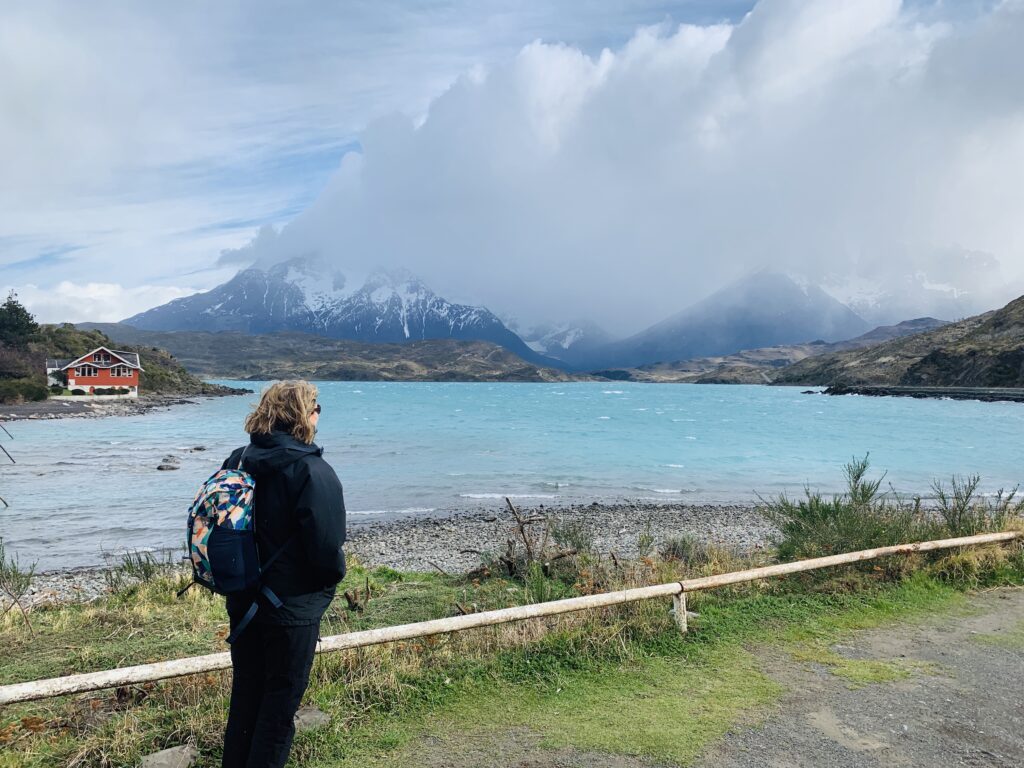 Duluth's Flexpedition Pants were my back-up pants, you know, for when my first pair needed a rest or rinsing. These pants were a bit stretchier, which certainly came in handy for the amazing meals at Patagonia Camp. I loved being able to roll up the cuffs on a sunny day as I stripped away layers.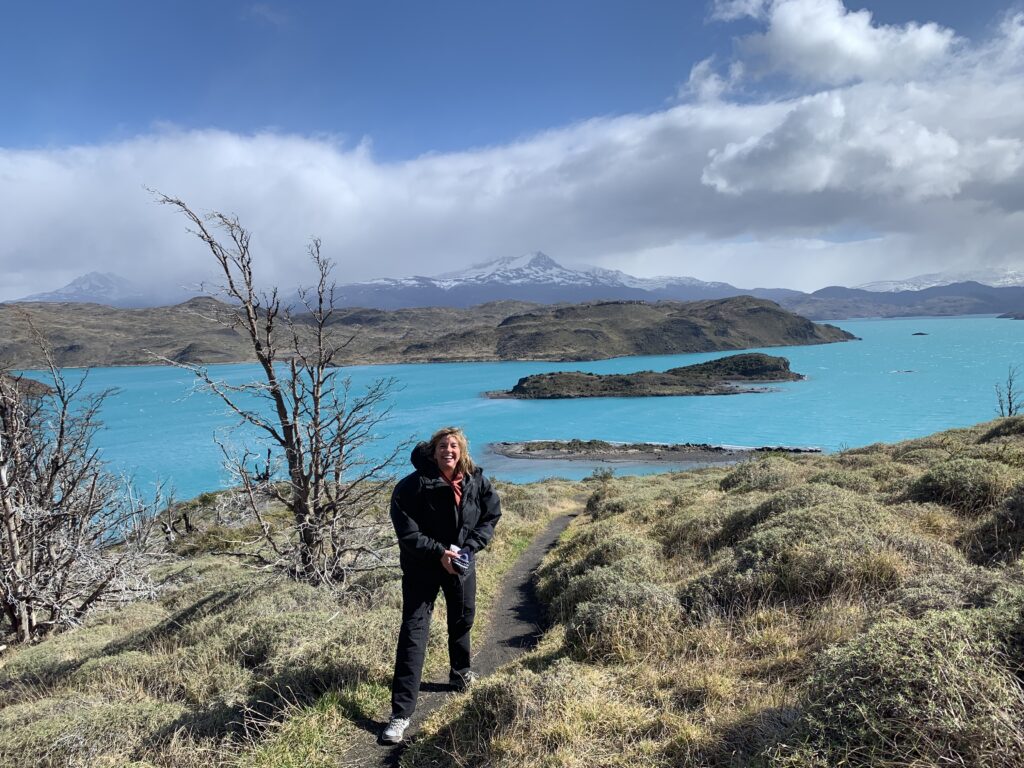 Of course, layering was the key to the game in terms of planning for unexpected weather.
Depending on the day's forecast, I started with a short sleeved or long sleeved cotton underlayer. But my staple was Obermeyer's Lilia Fleece jacket. I specifically chose a fleece with a hood just as an added layer of protection, and since I would be layering, I wanted one that didn't fit too snuggly. And yes, I'm wearing this bright orange jacket in every photo taken that week.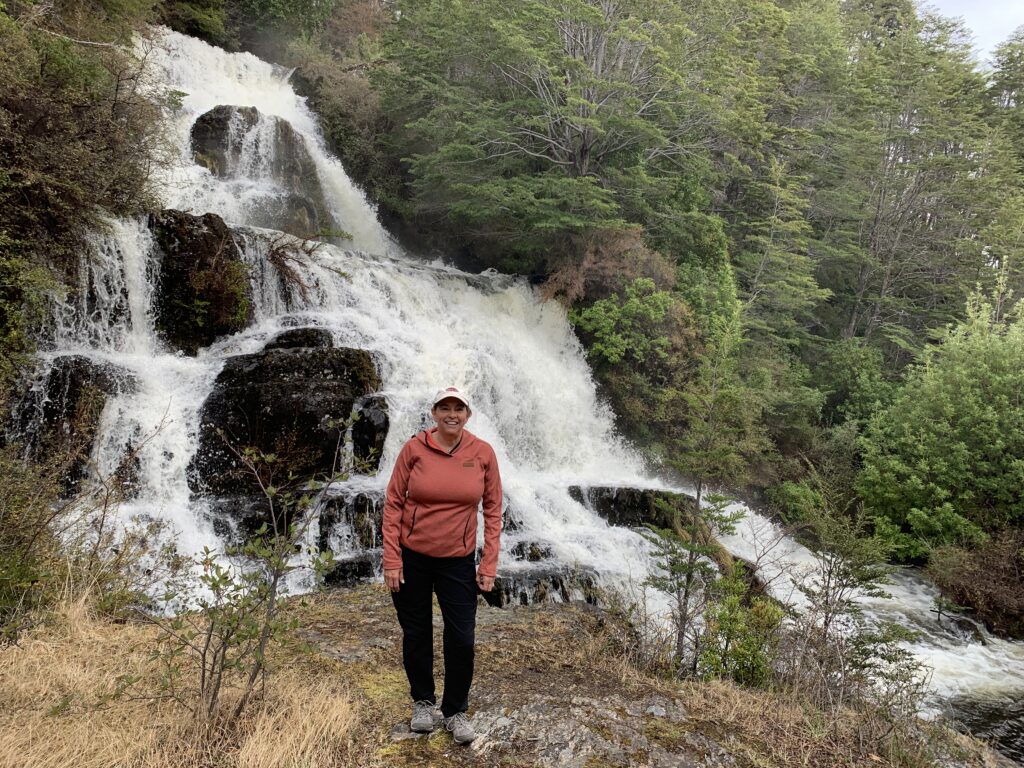 On the coldest and windiest day of expeditioning, I was glad I had Obermeyer's baselayer tights. I was a bit concerned about having two layers around my muffin top waistline, but the yoga waistband made for a comfortable fit.
My husband offered me his backpack but I wanted something a bit more fun and colorful for photos. I chose the REI Co-op Flash 22 Print Pack in a floral pattern. I mean, it's all about appearances, right? It was lightweight and held all of my gear for the day, especially my "just in case" layers and my stash of granola bars and chocolate, you know, in case I got lost in the desert.
And speaking of getting lost, my fear is dying of thirst. So I kept my trusty Takeya Insulated Water Bottle with me 24/7. And I like my water cold. Icy cold. So I loved that this water bottle kept ice frozen all day. And yes, I may or may not have put wine in it as lunchtime.
I've been investing in my face lately (read into that what you like) so I wanted to be diligent about keeping the sun off of it. I ordered this sunhat with a strap to ensure it stayed on during windy conditions.
Because I'm not that hearty of an outdoors person and I was terrified of getting sore, blistered feet, I was very careful in selecting my hiking shoes. I tried on dozens of pairs and much like my wedding dress, I just knew when I found "the one." (I guess I should say the same of my husband.) I ordered these Columbia waterproof hiking shoes from Zappos. One day, we hiked to a waterfall and ended up in a bit of mud, but the shoes did their job and kept my feet warm and dry.
If you'd like to read more about my experience in Patagonia, be sure to read my articles on Lonely Planet and Orbitz.
Thanks to REI, Obermeyer and Duluth for helping to outfit me for my trip.